I have been trying to find convincing reasons why you should use Facebook and how you should use Facebook for your job search.  I've been conducting research and also observed a presentation given by job seeking users on how to use Facebook.
What I took away from both of these experiences was, if you aren't on Facebook already, it is just one more complex tool to learn and I would stick with learning the ins and outs of LinkedIn instead.
However, if you are already using Facebook, you might as well leverage your connections there. Here is the breakdown by age of users in the US, out of a total of 94,748,820 users. Now that's a network!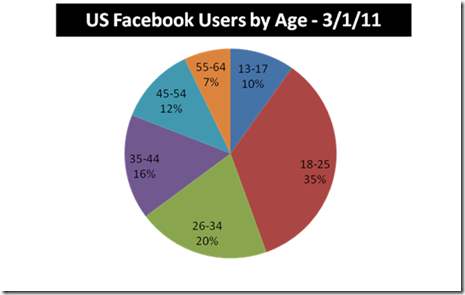 From SocialMediaToday
Here are 6 Ways to Use Facebook for Job Search
Let your friends know you are looking for work by sharing information in your status update
Ask if any of your friends know someone within your target companies
Find and "Like" pages of employers you are interested in working for so you can see what they are up to
Investigate apps such as BranchOut which may make it easier for you to find connections to employers
Build your personal brand by writing and sharing topics related to your expertise
If you don't know about Facebook's Friend lists, you should…it helps with privacy settings.
I am not convinced that Facebook is the best tool for job search. I am convinced you should be letting everyone in your network know you are seeking a new job, so  I wouldn't rule it out, but I wouldn't obsess over it either!
Heather Huhman wrote a post "More Ways to Use Facebook for Your Job Search" on On Careers.  Heather also sites a post by Lindsay Olson  7 Ways to Use Facebook for Your Job Search.  These two sources point out many of the same things and add some new ones as well (privacy issues!).  This post was previously been published.
Share Your Experience With Facebook
Have you been able to make connections via Facebook that have expanded your network?
Career Sherpa can be found on Twitter at @careersherpa, feel free to follow if you like what you see here.  You can also find her on Facebook, LinkedIn, Stumbleupon.   Hannah Morgan, aka, Career Sherpa provides advice and information related to reputation management, social media strategies and job search/career mapping.  Her website is: www.careersherpa.net